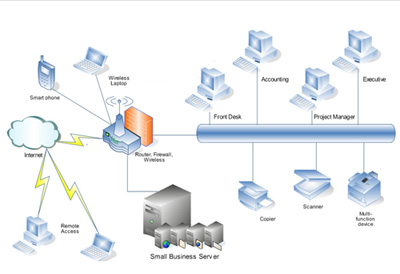 A computer network is a system in which computers are connected to share information and resources. Helios IT Sols has acquired the expertise in designing, installation, administration and support of computer networks for medium and large scale businesses.
It is a fact, that networking, is one of the important factor in today's world for any type of business. A bad networking design or implementation can cause a lot of trouble and financial loss.
At Helios IT Sols, our network experts, take into consideration the actual requirements of an organization and then design the optimal topology, protocol and architecture best suited for your organization.
Helios IT Sols has successfully completed the designing and installation of networks for many business organization, schools, production houses, financial institutions, SOHO, etc.
Helios IT Sols provides the following networking services:
Microsoft Windows Networks,

Novell NetWare networks,

UNIX and Linux networks,

Firewall, VPN Support, Network Security, Email Monitoring, Web Access,

Network Data Monitoring

Network Troubleshooting