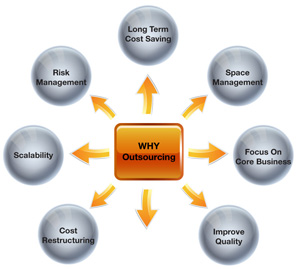 India, owing to its dynamic and qualified pool of intelligence has evolved into an attractive hub for Offshore Outsourcing. Also, the quality and cost factor, provided by India is very much better than any other country. No doubt, India is preferred today as a favorite Offshore Outsourcing Destination.
What's the Role of Helios IT Solution in Offshore Outsourcing?
Grounded firmly on the foundations of trust, teamwork and technology, Helios IT Solution has been providing Outsourcing Services to Offshore Clients. We have provided Offshore Outsourcing Solutions to our clients based in US, Gulf, Australia, Germany, etc.
Our effort is to make the Outsourcing process a very smooth and trouble free experience for our clients, by offering a cost and quality based solution, delivered within the appointed time frame.
Helios IT Solution can provide outsourcing solutions like Static or Dynamic Web Designing, E-commerce Websites, Dating Websites, Job Portals, Customized Websites, Customized Software Solutions, ERP Solutions, Multimedia Presentations, Flash Animations, 3D Animation & Titling, Online (Net Based) & Offline Applications Architectural Walk Through, Flash based Games, Computer Based Training (CBT) Applications, Data Management, Offline & Online Data Sorting, Data Conversion Service, Data Mining Service, Scanning & OCR Service, Image Manipulation or Enhancement Service, etc.
In short, Helios IT Solution professionals can execute any Offshore Outsourcing Project related to IT Industry.