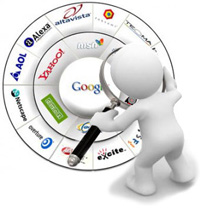 Helios IT Solution is a leading Search Engine Optimization or SEO Company in Mumbai & Search Engine Marketing or SEM company in mumbai, India providing quality and affordable SEO services to its clients based in India, US, UK, etc. Many of our clients are placed in the first page of Google, Yahoo & MSN search engines. If you are looking for a genuine SEO & SEM company to promote your website globally, then you have to look no further.
Helios IT Solution's SEO processes are strictly based on guidelines provided by Google. We also strictly follow the White Hat SEO techniques or Ethical SEO techniques to make sure that the website is not banned by any search engine, due to the use of Black Hat SEO or Unethical SEO techniques.
What is Search Engine Optimization or SEO?
SEO or Search Engine Optimization, is a process in which your website is tweaked by altering or modifying the existing web page content, so that it achieves higher ranking in search engines like Google, Yahoo, MSN, etc. It also involves insertions or modifications of proper and relevant meta tags with appropriate keywords and meta contents.
Why is Search Engine Optimization required?
Its a fact, that millions of websites exist for a particular category. Also, People who surf and search the internet to find out their specific requirements do it so, by using certain words called keywords or key phrases.
For example a person searching for "automobile parts" is likely to key in the words "automobile parts" in Google or any other such type of Search Engine. Just do this search and see how many results Google displays!!! This is where Search Engine Optimization or SEO comes in for your website top ranking.
Search Engine Optimization, is necessary for all those companies and individuals, who want to make their website available to perspective clients, globally and or locally, among all the millions of similar websites. If your website is not visible in the Search Engine Result Pages (SERPS) of Google, Yahoo, etc., then you are loosing business! With our Search Engine Optimization Services (SEO) you can be sure, that you will not loose out on the visibility of your website, across these Search Engines.
WHY Helios IT Solution?
Helios IT Solution has executed more than 250+ successful Search Engine Optimization (SEO) projects in various categories, wherein majority of the clients are in 1st Page of Google, Yahoo & MSN Search Engines, wherein the competition of the keywords was in millions. This has helped Helios IT Solution to become a reputed and highly respected SEO company in mumbai, India and also abroad.

Our team of SEO analysts and experts discuss out the requirements of the clients and suggest them which keywords will be best for their website promotion in the relevant Search Engines.

Our Clients get best quality SEO Service at an affordable price.

Our team of SEO analysts and experts make sure that an SEO project is completed successfully within the given time range.

Helios IT Solution strictly follows the White Hat SEO techniques or Ethical SEO techniques. This prevents your site from getting banned in the Search Engines.

Our SEO managers, are in constant touch with our clients to appraise them of the progress or to solve any of their queries.
SEO Procedure adopted by Helios IT Solution
After all these years and so many successful SEO projects, we have optimized certain methods that are used by us in our SEO projects. These methods are not unique, as some other SEO companies may say, but these methods are needed to be understood and optimized properly, in order to achieve a successful SEO.
Many of the same procedures, if used carelessly, may get your website penalized, as it happens with many clients of the new SEO companies.
SEO Procedures adopted for Webpages (On Page)
Website Analysis and implementation of changes, if required.

Keywords Research according to the content of the website and web page

Title & other Meta Tags Optimization

Content Optimization according to the relevant keywords or key phrases

Optimizing HTML Source Code by Removal on dead links, blind links, incomplete html tags, use less scripts and styles, redirect links, etc.

Optimizing or adding "alt" html tags for images.

Generating HTML Site Maps for the pages of website.

Generating Google and/or Yahoo Sitemaps

Generating appropriate Robots.txt files

Implementing W3C validation for the Website and making it W3C valid, by implementing any changes, if required.
External SEO Procedures (depending upon the package selected)
Submission of Websites to Free/Paid Directories

Blog Write Up & Posting

Forum Write Up & Posting

Generating 1-way-links or Reciprocal Links (depending upon clients choice)

Articles write-up and submission in Article Directories

Social Media Optimization

Social Media Book Marking