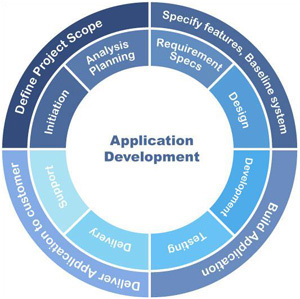 Helios IT Solution has made its presence felt in the software industry, by providing highly efficient and cost effective, online & offline, customized software solutions. As the demand to shift business and manage it electronically increases, so does the problem of actually finding the tools and resources to do the same.
Many ready made software are available in market, but they don't provide the client, specifically what they are looking for. Such softwares are called "bloated ware", where useless modules or utilities are just thrown in to increase the price of the software.
We, at Helios IT Solution recognize this problem and offer our clients a 'true' customized software, which is free of such useless modules. All are customized software are made by keeping in view, the actual requirements of the clients, depending upon his industry or type of work.
With proven capabilities in delivering high quality, efficient and on-time solutions, our team includes professionals with vast experience in their relative fields.
Be it AJAX, .Net, Visual Basic, C++, PHP, Java, DBMS, etc, our team of professional experts are capable of handling any type of customized software requirements with ease, right from conceptualizing, analysing and deployment of the final end product. All are customized software are fully expandable, upgradeable and are backed with superb after sales service.
Helios IT Solution has developed numerous offline & online projects such as: Payroll Management System, Inventory Management System, Offline & Online DBMS, Web based Login System, Banking Softwares, Hotel Management System, etc .
We use the following Technologies
AJAX

Windows DNA / .Net development

J2EE

Win32 API (incl. shell API, interprocess comm)

ODBC, DAO, OLE DB

Database design & consulting

.Net 2.0 Development

PHP Development