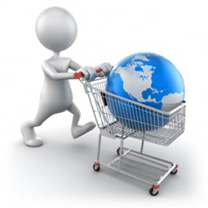 Helios IT Solution, is a leading Search Engine Marketing (SEM) company in mumbai, India. Internet Marketing or Web Marketing, is a very tricky part. The entire process of Internet Marketing can go totally waste, if wrong users or audience are targeted. At Helios IT Solution, the SEM process is outlined after analyzing the requirement of the client and the business module or the services provided by their websites. After doing this, we then proceed to suggest the client, as to what type of SEM services will be beneficial to their business or services.
Web Marketing or Internet Marketing or Online Marketing plays a very important role in the marketing of the website in front of the global audience, which ultimately results in the promotion of the product or the idea behind the making of the website.
Web marketing is different from Search Engine Optimization. Infact, SEO can be termed as a part of Web Marketing. Web marketing involves the use of various means of e-communications like SEO, Blogs, Forums, E mailers, Social Media Marketing, etc. for the promotion of your website, locally or globally. Internet Marketing is one of the most affordable way of promoting your business online, locally or globally.
Remember Online marketing is no longer an option; itís a necessity.
Estimates suggest that, more than 75% users are driven to a website by the Search Engines Results Page (SERP) or through Blogs, Articles, Forums, etc. If your website is lacking in these processes, then you are loosing out on these 75% of the users, which can affect your business.
The SEM experts at Helios IT Solution, perform an in-depth analysis of the current status of the client's website in terms of local or global penetration of the website. After doing this, we work out a balanced strategy to promote your website by using various processes of Internet Marketing like, Search Engine Optimization (SEO), Blog Writing, Article Submission, Social Network or Social Media Marketing, Link Submissions, Google Adwords, Yahoo Pay Per Click (PPC), etc.
Search Engine Services (SEM) offered by Helios IT Solution
Search Engine Optimization (Organic Listing using White Hat Techniques)

Pay Per Click in Google &Yahoo Search Engines (Adword Campaigns or Sponsored Listings)

Article Submissions

Blog Submissions

Forum Submissions

Social Bookmarking

Link Building Services

Social Media Marketing in popular Social Media sites like Facebook, Linked in, Twitter, etc.

Classifieds Submission

Local Search Engine Marketing